Stereoscape's recent collaboration with Dell and MultiTaction attracted clients and new leads around a gamified interactive table at Mobile World Congress Barcelona. Stereoscape pushed the creative possibilities of the giant touchscreen to its maximum impact by utilising the Unity game engine. Stereoscape's Creative Strategist Janne Itäpiiri reports.  
What is MWC Barcelona and what was Dell's goal at the event?  
The Mobile World Congress is an annual trade show in Barcelona dedicated mainly to the mobile communications industry. 
Dell had a large booth at the event, showcasing and launching various new products and processes to existing and potential clients.  
What was Stereoscape's role in the showcase? 
We were approached to create a showcase for an interactive touchscreen table with physical elements that would visualise the connections between Dell and their network of partners in the new TSB partner programme. We elaborated and developed Dell's brief into a concept that would bring the most out of MultiTaction's hardware.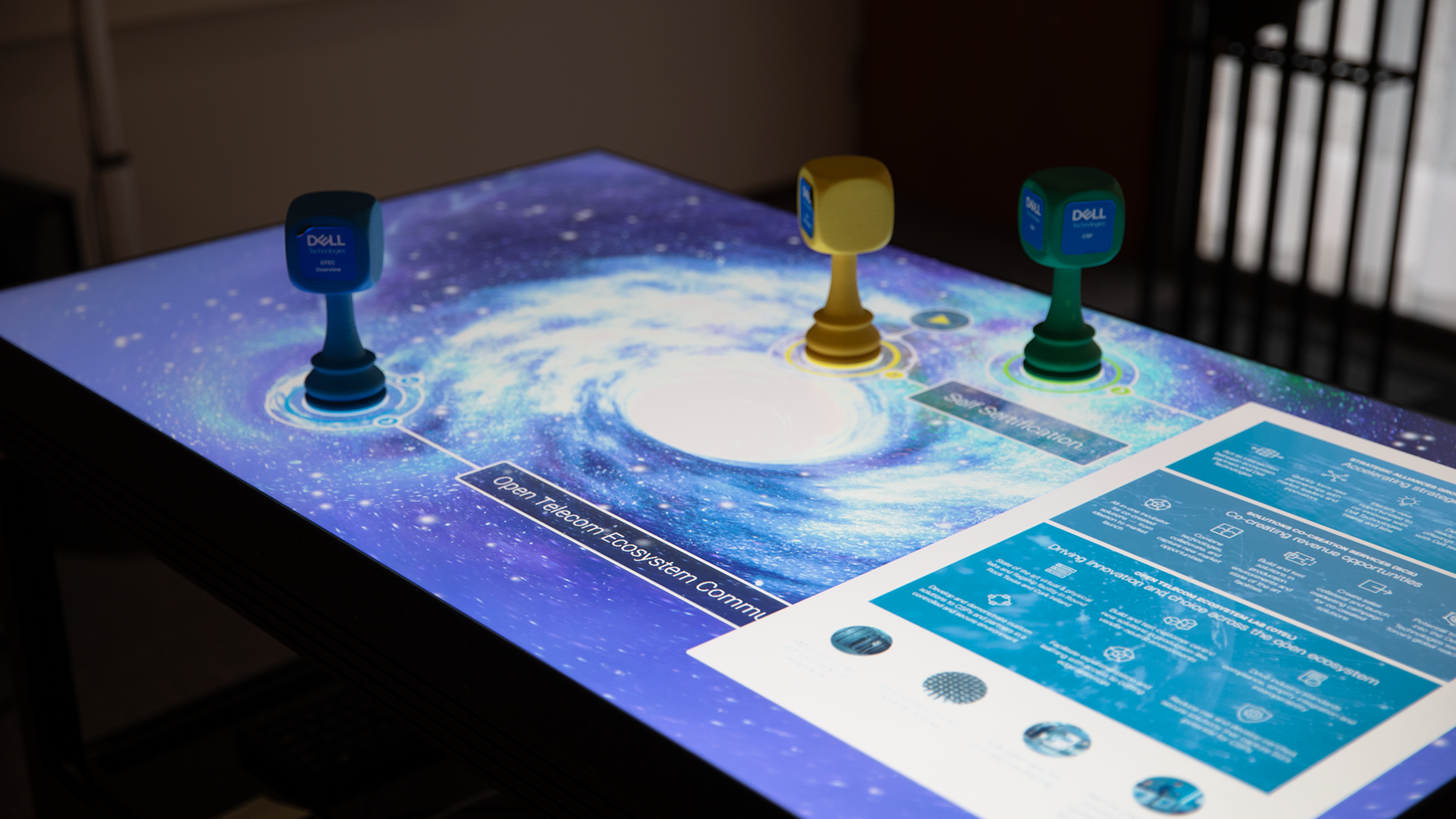 "What is important to a visitor at a trade show? The need to quickly understand how something works."  
Based on Dell's brief, we suggested the idea of creating laser-printed objects resembling chess pieces that visitors could move around on the touchscreen table. Chess pieces are instantly recognisable and everyone understands what to do with one: you move it around. Once we had this idea it was easy to connect the chess pieces with the information that Dell wanted to communicate to their clients.  
To illustrate the benefits of Dell's new partner network, we came up with the concept of a "space vortex" to visually suggest how the partner network helps create business opportunities that can expand infinitely. After the conceptual stage, our input included designing the moving and interactive elements to represent Dell and their partners coming together in the network. 
We were in charge of the graphic design and how the content was placed across the 55-inch display; and designing the usability of the solution so that multiple users could operate the touchscreen desk at the same time. We also created the laser-printed chess pieces to represent various elements of Dell's partner network and the benefits of joining the network.  
What is Stereoscape's approach to gamified and interactive content?  
User experience is at the centre of our design process: the solution needs to work immediately, or you'll lose people. To achieve this, you need a deep understanding of game engines, spatial design, graphic design, user experience and interface design.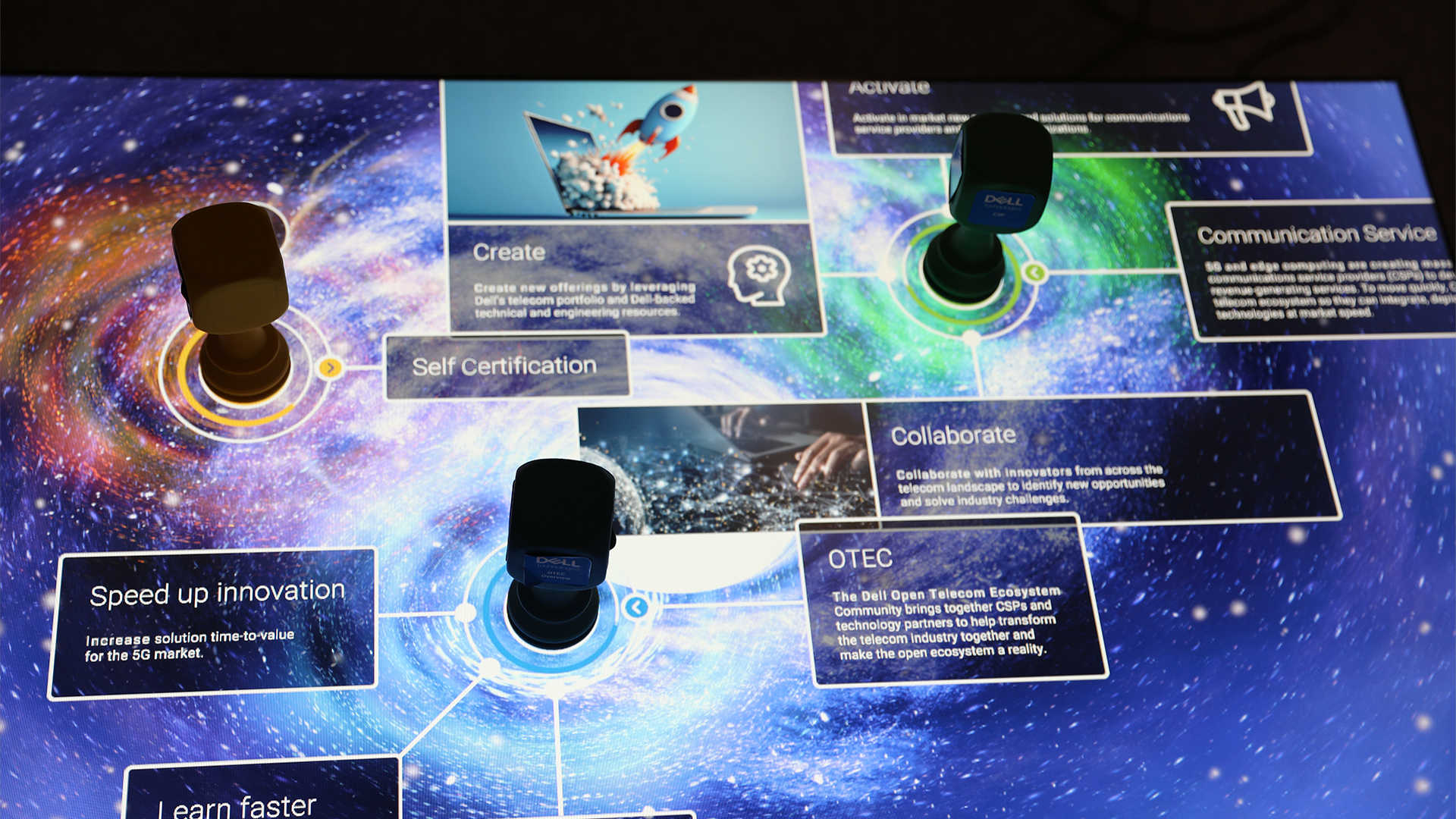 A key part of the user experience design is understanding the context for which the content is created. At events, solutions are usually operated by sales personnel and possibly also visitors themselves. The content needs to be intuitive, work on multiple platforms besides the touchscreen, and also as wall projection to attract more visitors.  
To deliver truly innovative solutions you also need great project management and technical integration skills. Managing the various aspects of the project - the hardware, programming and creative concept -  requires experience and the ability to communicate and troubleshoot effectively across disciplines. At Stereoscape we have over a decade of experience managing an international network of experts whom we can bring in to deliver the best quality solutions at the right price. 
Why did you choose MultiTaction as the touchscreen table for the event? 
We wanted to push the boundaries of what can be done with an interactive touch screen by integrating gamification into the mix. MultiTaction's display offers a more flexible solution than the competitors. It can have up to 20 users collaborating at the desk at the same time, and it can be used either as a table or a touchscreen on the wall. Their displays can be connected seamlessly to one another so you can move objects from one table to another, for example.  
MultiTaction's display is also technically stronger quality, larger in size and smoother in its object recognition than the alternatives. The solution recognises left and right hands and can handle multiple objects (up to ten) on the table, and facilitate movement with fingers and palms - making it a very sophisticated interactive tool, perfectly suited for collaborative showcases. 
How did the collaboration between Dell, Stereoscape and MultiTaction come about? 
It was a very organic collaboration. We were approached by Dell because of our previous track record of successfully delivering eye-catching solutions for the Mobile World Congress. There was also great synchronicity in the choice of technology in this case. Dell who ordered the solution from us had previously tried out the MultiTaction table and been impressed by it.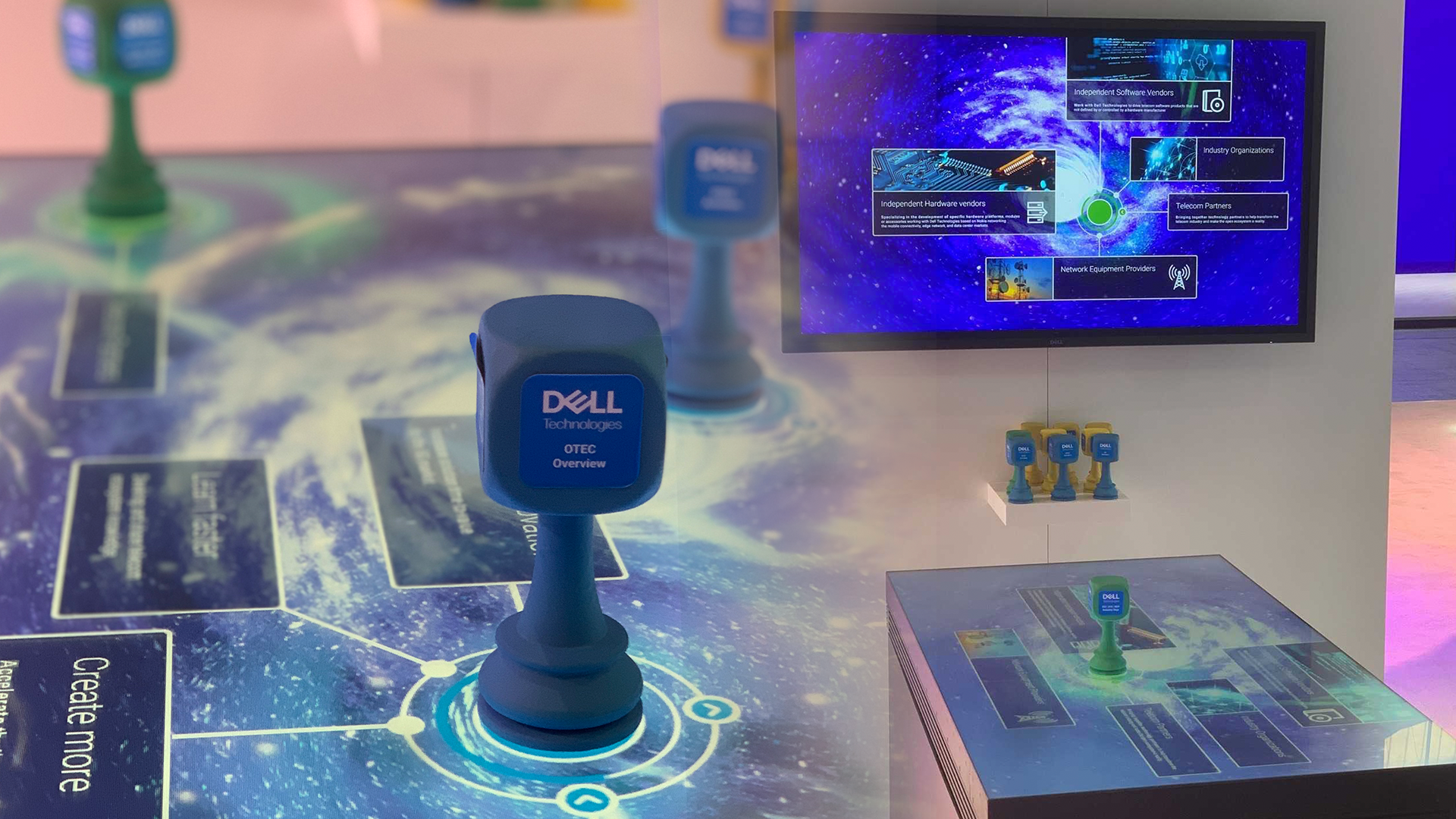 Meanwhile we at Stereoscape had previously collaborated with MultiTaction in Finland. This relationship proved very important during the development of the solution, as we had to integrate MultiTaction's touch protocol to work with the Unity game engine to handle the 3D content. Our existing relationship with MultiTaction in Finland enabled us to test the solution directly on their hardware and thus ensure a high quality user experience at the MWC.  
How was the concept realised into a tangible solution? 
It was a very tight turnaround: we delivered the solution in six weeks, from idea to execution. It was really our existing relationship with MultiTaction that enabled us to deliver the solution at this speed, because in general there is a six-month delivery timeline for their made-to-order touchscreens.  
Were there any challenges in delivering the solution? 
The challenges were mainly technical and had to do with integrating MultiTaction's touch screen and the Unity game engine seamlessly together. Thanks to our extensive network we were able to find the right talent to deliver a reliable and smooth user experience in the required timeline. 
How did visitors respond to the showcase? 
"The feedback was overwhelmingly positive. People were genuinely excited to engage with the touchscreen table."  
Of the thirteen Dell showcases at MWC this year, our MultiTaction showcase was the third most popular based on the number of engagements and leads created. The solution caught the attention of people, got them to approach Dell's booth and listen to their pitch.  
What should marketers consider when creating interactive content for events? 
Visibility!

Use tools like 3D projections combined with AR and sound to attract attention from a distance and bring people to your zone. 

VR is always popular

.

It generates interest, but also queues, so remember to plan activities to engage those standing in line :)

Think deeply, think 3D!

The interactive MultiTaction touchscreen table allows you to dive "inside" the table and collaborate there - under the surface - creating brand new possibilities for capturing the attention and imagination of your target audience. 

Plan content for multiple platforms - not just one-off events.

You can launch new content at your event - and then extend its life on other platforms and uses including the web, training and onboarding. 

Realistic scheduling.

Whilst projects can be created within a two-month turnaround, we recommend a three-month minimum to allow for testing, planning, less risk and the smoothest possible user experience. 

 
Stereoscape is a production company that creates interactive and gamified content for new immersive platforms. Based in Helsinki, Finland, the company helps leading international marketers, educators and industrial companies to communicate through visually engaging experiences. Whether the goal is to engage customers or make learning more fun through gamification, Stereoscape brings a wealth of conceptual, storytelling and technical expertise to 21st Century content creation. 
Questions? Collaboration ideas? 
Drop a line to Stereoscape's Immersive Marketing Lead Olli: This email address is being protected from spambots. You need JavaScript enabled to view it.